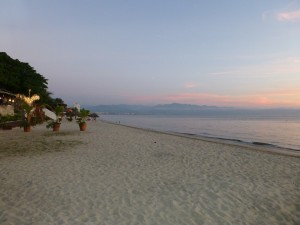 The late fall is a pleasant time to be in Bucerias. The days are hot, nights are cool and skies are consistently blue.The ocean is warm and winds calm. And, all of this is shared with just a few people as the peak season is a month away. The beaches are empty, with the occasional Mexican family having a picnic for the afternoon.
As for dining, we stuck to our favourites. It's hard to try new places when the food is so good. Rico's Tacos, otherwise known as the "rim" taco for the tire wheel used as a BBQ, on Mexico avenue was still the first choice for tacos and gringas. Take it home or if you dine there just remember to bring your own bottle of wine or six pack of pacifico. For breakfast, we walked a half block from the condo towards town to Los Pericos. Their breakfast menu was diverse, delicious and the outdoor seating area was always basking in the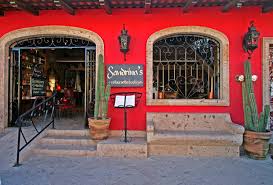 morning sun. Even if we planned breakfast elsewhere I would still have my morning coffee there. As we do every time we visit Bucerias, we dine at Sandrina's, a very festive and colourful mediterranean restaurant on the southern part of town. Try to go on Monday nights when there is live flamenco music and dancing. Reservations are required as they are very busy. Lastly, a night out in "town" must end, according to my children, with a stop at the churro stand. This year we noticed another churro stand open shop with fancy new stainless steel equipment. We remain loyal to original churro stand run by an older man and his wife. No fancy stainless steel, just homemade PVC piping and that same delicious taste.